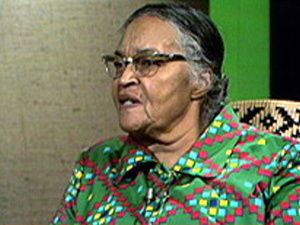 Title
Melnea Cass Interview
Creator
Carew, Topper
Publisher
WGBH Educational Foundation
Type of Resource
moving image
Abstract/Description
In this clip Topper Carew interviews lifelong Boston community advocate and volunteer, Melnea Cass, about the work of the Council of Elders in providing services for the elderly in the Model City area. Overall the program focuses on the contributions made by, and services for, the elderly of Boston. Host Topper Carew interviews three prominent African American senior citizens: Melnea Cass (lifelong Boston community advocate and volunteer), Lometor Boston (volunteer), and Ralph J. Banks, and talks with them about programs available to seniors, their advice for young people, the cutting of federal programs, and their hopes for the elderly community. Program also contains a poetry reading by Bishop Curtain and a musical performance by Rowena Williams. Produced by Topper Carew.
Subjects and keywords
African American women
Williams, Rowena
Older people--Services for--Massachusetts
Civil rights
Boston, Lometor
Curtin, Bishop St. Clair
Older African Americans
Segregation
Banks, Ralph J
Older people--Services for
Moore, Charles
Cass, Melnea A. (Melnea Agnes) 1896-1978
Format
Motion pictures
Rights
Contact host institution for more information.
Rights status not evaluated.
Permanent URL
Identifier
Local other: V_5913085B57A74E3A8331EE43BD92CAC7